OPST Sink Tip Wallet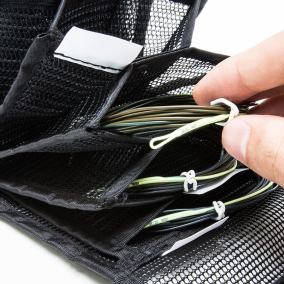 Price:
299 kr
Inc. 25% Tax
SKU:
P2000959
Quantity:
OPST Sink Tip Wallet är med sina 9 fack ett perfekt förvaringsfodral för alla dina spetsar! Tillverkad i ett gummerat nät vilket gör att den låter dina linor torka och hålla sig fresha längre. En enkel och smidig wallet för dina tippar!

The OPST Tip Wallet helps keep your sink and floating tips neatly organised. With nylon resin mesh to facilitate drainage and a Velcro close, it is immune to the corrosion common in zippered sink tip wallets. Unique staggered polyester line ID tabs allow you to sort and identify your OPST tips. Plus, it's black and it looks cool.
Dimensions approximately 125mm x 100mm.