Palm Ferd 9ft #5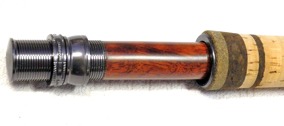 Price:
5 495 kr
Inc. 25% Tax
SKU:
P1246161
Quantity:
5-piece high performance rods with the best carbon and material avaliable.
Powerful crisp action.
The 9ft #5 is a real powerful yet delicate rod for the dryfly and nymph fishing.
Lovely design with the dark magmared blank and the black guides!
Custom handles with inserts of burl cork. ALPS reel seats and guides.
Delivered in rod sock and carbon tube.