PePe Flyfishing is a small company with great knowledge and personal service. We, who runs the business, are trying to live a normal life with family and another full time job, even if fishing is more of a life-style to us.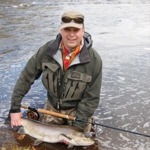 Pär Palm is a "wily old bird" when it comes to fly fishing. With more than 30 years of experience he can handle everything from mosquito imitations on a # 3 rod to sinking lines on heavy double hand poles, and everything in between. Sea trout fishing in Sweden and Steelhead in the US are his favourites. Salmon in Sweden, Norway and Scotland comes on a regular basis. In spring time he will occasionally challenge a pike or two.

Since many years Pär has a rumor of being an innovative fly tier and a very skilled rod designer..