Doublehanded rods
Three different options for the handle, Basic, Burl och Wood. These three can than be made in either a more straight taper, (Scandinavian style), Speymodell and/or as Split Grip.
Prices in the charts are for handles made as Basic, regardless of what modell you choose.
For Burl there's an extra of 19€uros and for Wood 29€uros.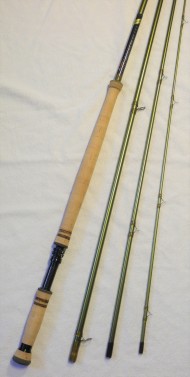 Spey Xi
Power and feeling combined in these rods. Mediumfast action.
4-piece
Olive green
12,6ft #8/9 price 694€uros
13,7ft #9/10 price 702€uros
14,8ft #10/11 price 712€uros
Switch
Cast with two hands but fish as a single is the main idea with this rod.
Works with WF-lines, shootingheads and skagit.
4-piece.
Color Matte Black
11ft #7 price 400€uros
11,6ft #7/8 price 400€uros
Bleu Acier
My fastest rodmodel. The main part of the power in these rods are in the lower part. Just a short castingstroke is needed if shootingheads are used. Greatly balanced rods that works superbly with all types of casts and accellerations.
All 4-piece.
Color is Gloss Steel Grey
12,6ft #8/9 price 836€uros
13ft # 8/9 price 846€uros
14ft #9/10 price 884€uros
15ft #10/11 price 890€uros
Spey X
Modern action rods for fishing with lighter lineweights.
All 4-piece
Olive green
12ft #6/7 price 551€uros
13ft #7/8 price 560€uros
14ft #8 price 605€uros
14ft #9/10 price 605€uros
Glassfibre
Smooth loading with great power and low weight compared to the old versions of the glassrods.
Wonderful slow action.
4-piece
Color iHoney yellow
11ft #7 price 648€uros
12ft #7 price 658€uros
12ft #8 price 658€uros
Nordic Five
Nordic insired 5-piece rodseries. Medium deep action that andles all types of casts and accellera-tions.
Color Matte Grey.
12,6ft #5/6 price 835€uros
12,6ft #7/8 price 846€uros
13,6ft #9/10 price 840€uros
14,6ft #8/9 price 884€uros
14,6ft #9/10 price 890€uros
Travelrod
6-piece travelrods with a wonderful mid deep action.
Built on the base blanks from my Blue Acier.
Color Black
13ft #6/7 price 874€uros
13,6ft #8/9 price 893€uros
13,6ft #8/9 price 900€uros
14ft #9/10 price 940€uros