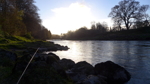 General
Join us on one of our well organized fishing trips .
We are trying to create simple but fully functioning arrangements, both in Sweden and abroad.
When you take part in one of our trips PePe Flyfishing is responsible for transportation at the destination, housing, meals according to specification ( but never including alcohol), and fishing license. Each participant is responsible for Governmental Fishing Permit (for example "Norwegian Governmental License") and desinfection of own fishing gear, where applictable.
Some gear could be borrowed during the trip, if this is agreed upon well in advance.

Travel warranty / Insurance
PePe Flyfishing is not a travel company. We are never responsible for tickets to and from the destination and therefor not included in the Swedish Governmental Travel Warranty. Of course we will give you advice on how to travel to and from the destination.
During your stay at the destination you are included in Pepe Flyfishing´s Group Insurance with Länsförsäkringar (only valid within the Nordic countries). For your trip to and from the destination and for destinations other than the Nordic Countries we recommend you to arrange your own travel insurance..